Develop Professional
Business Plans.
I help you create effective business plans that will impress
investors
landlords
government entities
partners
So you have a startup idea and want to transform it into a successful business? You need a business plan.
Before
How many business plans do you think investors see? Most business plans are dull and uninspiring, do you want to stand out?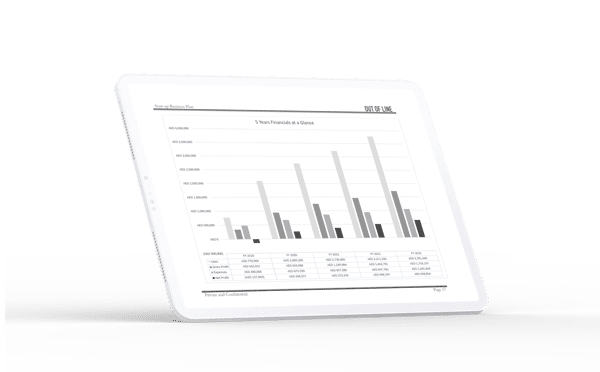 After
Have a clean designed, professional-looking startup business plan that is easy to read and understand.
360° View of your Startup
Get a thorough startup business plan that gives you a complete overview of your business.
Problem/Solution statement, market overview, products & services, target market, go-to-market strategy, operations & HR, financial forecasts, and more. You're covered!
Let's Start
Tailored to your audience

Aligned with your branding

Highlight your idea

Tell you startup story

Developed from scratch
Market Research

Financial Forecasts

Industry Analysis

Product Overview

Operations & Management
Investor-Ready

Awesome Design

Clean Structure and Layout

Professional Writing

Multiple File Types
Take it up a Notch with Add-ons
Get a startup business plan that ticks all the boxes and is designed to highlight your idea and impress your audience.
You worked hard on your startup idea, amplify that with an awesome plan.
No Templates
Every startup business plan is written from the ground up.
Professional Writing
Tell your story and keep your audience engaged.
Expert Knowledge
Over a decade of experience writing startup business plans.
Unrivaled Quality
Significantly increase your chances of success.
I work with entrepreneurs on a daily basis and help them transform their business idea from a vision into a reality. If you need a business plan for yourself or to present to others, I provide you with professional advice on every step of the business planning process.
Business Plans for You
Business plans are key to establish a clear roadmap for your business, whether you are in the early startup or growth phase.
You may also want to develop a business plan to present it to potential partners, co-founders, management, and staff to get buy-in on your vision and establish a common goal and direction for your business.
Business Plans for External Entities
Develop a business plan you can be proud of and present it to external entities such as:
Government authorities to acquire a business license.
Potential lenders/investors to get funding.
Landlords to acquire lease approvals.
Embassies for immigration approvals.
Expert Guidance and Support
As an entrepreneur, you may be an expert in your field and know exactly what you want to accomplish with your new or existing business.
However, especially if you are a first-time entrepreneur, you may have never written a business plan before and might need professional help and guidance along the way.
What can a business plan do for you? 
A well written business plan has many benefits, it helps you to:
Refine
Your business idea.
Validate
Your business concept.
Develop
Your value proposition.
Identify
Your target customer.
Evaluate
Your business opportunity.
Measure
Cost and required funding.
Set
Your goals and objectives.
Outline
Your team requirements.
Acquire
Government approvals.
Land
Investors and funding.
10 reasons my business plans stand out
and you should hire me for your next plan
Other Services for Startups and Entrepreneurs
Looking for other services? Check out some of my other services below:

Startup Coaching
Develop key entrepreneurial skills and learn the fundamentals of business and startup success.
Learn More

Pitch Deck Presentations
Showcase your startup business idea and impress your audience with an awesome pitch deck that will get you funded.
Learn More

Brand Strategy
Communicate your story and create a meaningful connection with your audience by having a well-researched brand strategy.
Learn More

Retainer Services
Have an experienced advisor by your side to guide you at different stages of your entrepreneurial journey.
Learn More